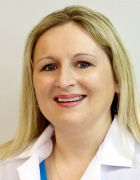 Dr. Elizabeth Mlynarczyk is a graduate of Loyola University of Chicago and Loyola Stritch School of Medicine. She completed her residency at Loyola University of Chicago and Grand Rapids Medical Education Center at Michigan State University. She has been in private practice since 2009 and is a Board Certified Physician.
Her areas of special interest include high-risk pregnancies, abnormal pap smears, abnormal uterine bleeding, pelvic pain, endometriosis, pelvic prolapse, laparoscopy, and preventative exams.
Dr. Mlynarczyk enjoys getting to know her patients and having the privilege of taking care of them throughout their lives. She is passionate about her profession and regularly attends conferences focused in her areas of specialty.
Dr. Mlynarczyk is happily married and has three children, including a set of twins. She speaks fluent Polish and can speak basic conversational Spanish.